Overberg Honey Company Shops
Overberg Honey Company, Stanford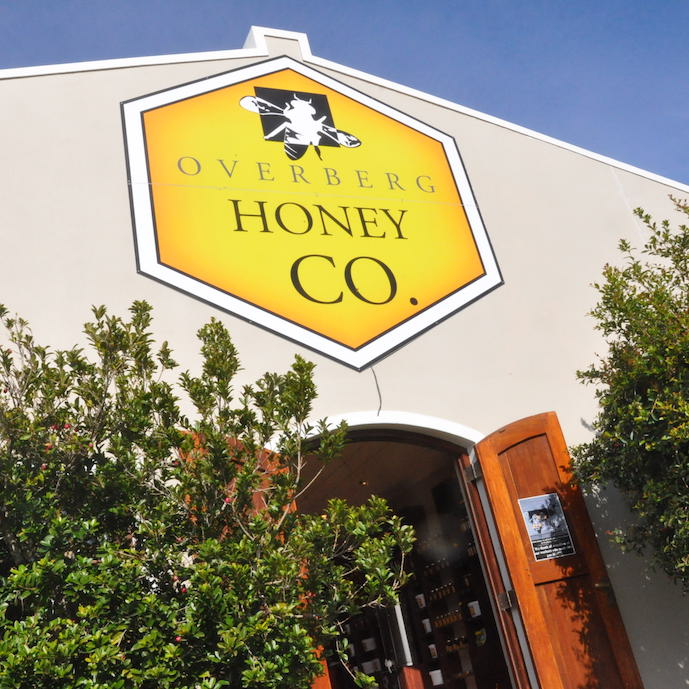 This is Overberg Honey Company's shop and this is where all Honeysuckle's honey is extracted. Visit us here and we will take you on a short tour through the honey extraction process.
We also affer a free honey tasting with a variety of 16 different types of honey.
Bring the kids to look at our Observation Hive and choose from loads of sweet stuff to take home from our honey shop.
Overberg Honey Shop
Stanford Business Park
Plot 1236
Stanford 7210
Tel: Nadia Vorster 072 325 6360
Opening hours:
Monday to Friday 09:00 – 15:00
Saturday 10:00 – 15:00
Open on Sundays during holidays.
The Honey Stall, Hermanus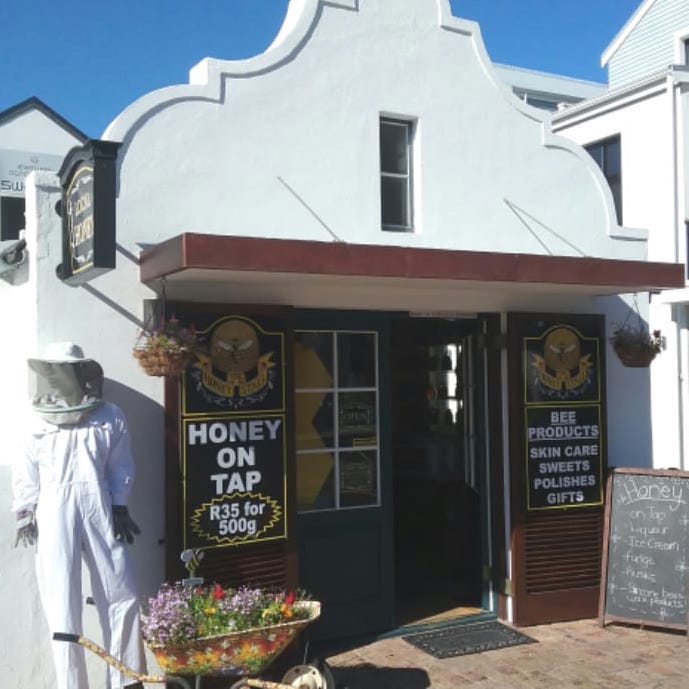 This sweet little shop is located in the heart of Hermanus. Bring your honey jars to be filled on tap while you munch away on your delicious honey gelato.
With a wide variety of honey meads and beers to keep the men busy while the ladies stock up on their Honeysuckle products AND MORE.
The Honey Stall
32 Mitchell Street
Hermanus 7200
Tel: 028 312 3332
Opening hours:
Monday to Saturday 09:00 – 17:00
Sunday 09:00 – 15:00
Overberg Honey Company, Elgin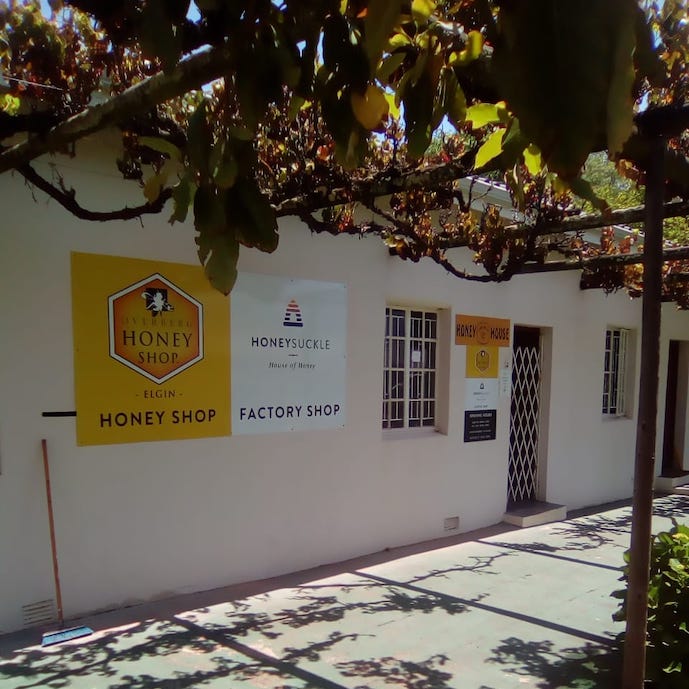 This shop is truly the home of Honeysuckle. This is where Honeysuckle gets produced and packaged. We also have our factory shop here with loads of awesome specials. And of course some delicious HONEY!
Honeysuckle / Overberg Honey Shop Elgin
4 Dorpsland Road
Elgin Village
Elgin 7160
Tel: Nadia Vorster 072 325 6360
Opening hours:
Monday to Friday 09:00 – 17:00
Saturday & Sunday 10:00 – 15:00
Western Cape
Cape Town
The Honey Room
Montebello Design Centre
31 Newlands Ave
Newlands 7700
+27(0)73 334 7548
Care Clinics
Newlands (CT)
084 405 0044
Stellenbosch
Vita Bee
Klein Nooitgedacht Farm, R304, Stellenbosch
+27 (0)76 761 2603
Gansbaai
Grootbos Reserve
-Botanical Gallery
-Forest Lodge
-Garden Lodge
066 221 1847
Mossel Bay
H & N Beekeepers
No. 9 Steyns Bros Building
Mitchell Street
Mossel Bay
+27 (0)82 539 8445 / +27 (0)82 773 8937
jeanaventer@gmail.com 
Dana Baai
Dalene-082 538 1123
Doring Baai
079 392 7914
Onrus Rivier
All Good Things
081 328 3179
Gansbaai
Coffee on Clarence
073 289 0093
Pringle Bay
Lemon&Lime
073 698 0737
Gauteng
Pretoria
The Honey Company
Pretoria Noord
082 779 4208
Beauty@Erika
082 891 8576
Meyerton
Sisu Gift Company
082 388 3821
Northern Cape
Douglas
Douglas Bee Farms
+27 (0)53 298 1101
Moerby Padstal
072 536 3591
Breathe Beauty Studio
appointment.breathe@gmail.com
Eastern Cape
Cradock
The Buzz
082 874 7633
Port Elizabeth
Humble Bee Honey
+27 (0)76 474 9240
Somerset-Oos
Annemarie Nel
+27(0)83 215 9821
North West
Klerksdorp
Rolien
+27 (0) 82 851 9507
Potchefstroom
Heavenly Honey
Die Koeltetuin
Paryslaan
Potchefstroom
Alta Groblar
+27 (0)82 350 4700
Free State
Parys
Humble Bee Honey
081 878 6558
Klipspruit Mall
Waterstraat ,Parys
KZN
Howick
Peels Honey
1Boston Rd
Merrivale
Alta Pieterse
3Lovubu Avenue,Peninapark
+27 (0)72 740 9131
Joseph Ntamushobora
+244 995 832 474
Vila do Kilamba
Luanda
Predio J4
Apto No 22